With Summer coming to an end and a busy season of events and announcements on the way, I thought it would be good to take stock of some of the recent research in the world of Enterprise IoT and assess where the market stands heading into 2020. Let's dive in.
Gartner's IoT Hype Cycle Report: Progress is Accelerating
I've always enjoyed Gartner's Hype Cycle model, and their recently published 2019 IoT Hype Cycle report really illustrates well the current state of Enterprise IoT. In case you aren't familiar, the hype cycle charts the journey of technologies through phases of maturity:
Back in 2016, most IoT building blocks were right at that Peak of Inflated Expectations ('it's gonna be huge!'). Realizing the potential of IoT was projected to be years away.
Now it's 2019, and the good news is that several key IoT technologies have broken out of the pack and are climbing the Slope of Enlightenment (notably, managed connectivity services and asset tracking services). Among those close behind but still in the Trough of Disillusionment: Edge Architecture, IoT Platforms, and Building Information. The reason, according to Gartner, is complexity required to go to market ('It's harder than we thought!'). So good news – we are moving closer to bringing the entire Enterprise IoT industry to the Plateau of Productivity, but there's work to do.
Microsoft IoT Signals Report: PoC's Remain a Challenge
Another great read from earlier this Summer is Microsoft's IoT Signals report. Like the Gartner report it captures the growing enthusiasm for smart commercial spaces. Benefitting from a survey methodology, it taps further into what is driving or keeping business leaders from deploying more IoT.
One particularly illuminating chart summarizes reasons why PoC's (Proofs of Concept) fail. Generally those reasons fall into two buckets: 1) Scalability concerns, and 2) ROI/Business case validation.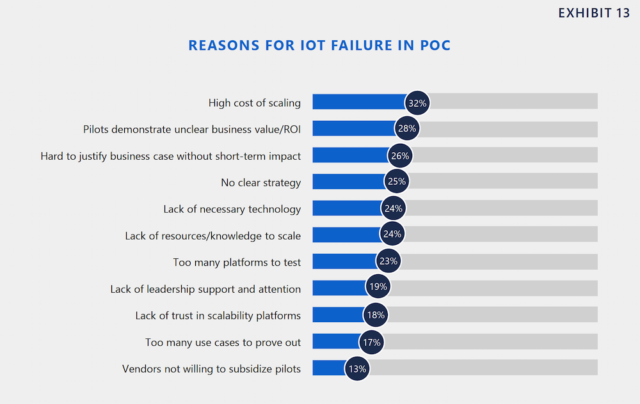 As a company building technology focused on scalable edge computing and cloud-data pipelines, we spend a lot of time addressing scalability concerns for partners and customers. Our work is always evolving, and in October Rigado will be announcing an exciting platform update around secure and scalable IoT Edge.
AGC IoT and the Enterprise Report: Focus on the Business Value
The second concern around ROI and value is something that often gets missed when projects begin. There's so much focus on making something work that we lose sight of the business value we were going for in the first place! In their recent report IoT and the Enterprise, AGC similarly points out that it's not individual use cases, rather broad business transformations that will ultimately determine C-level support for IoT initiatives. As a collective emerging market, we need to be able to see the forest and the trees. Here at Rigado we have some ideas we'll be bringing to the table to help IoT teams more quickly realize the benefits of deploying edge technology.
As always, we'd love to hear your side of the conversation and see where Rigado can play a role in your digital transformation. The next several months will be exciting, particularly for our product team, as we roll out new products and platform updates. Now is a great time to reach out if we can help make your commercial space work smarter.
—
You can read more about enterprise IoT here
To stay current with Rigado news and updates subscribe to our monthly newsletter
---